Pokemon Scarlet & Violet Rare Candy - 191
Check out the Rare Candy Pokemon card from the Scarlet & Violet set. It is a Item card with type. Learn more about its details, availability, and preorders.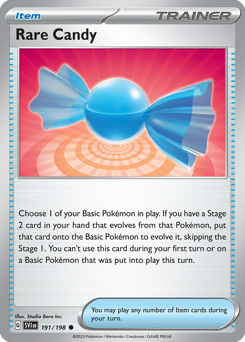 Card Details
Supertype: Trainer
HP:
Types:
Evolves From:
Evolves To:
Rules: Choose 1 of your Basic Pokémon in play. If you have a Stage 2 card in your hand that evolves from that Pokémon, put that card onto the Basic Pokémon to evolve it, skipping the Stage 1. You can't use this card during your first turn or on a Basic Pokémon that was put into play this turn.,You may play any number of Item cards during your turn.
Abilities:
Attacks:
Weaknesses:
Resistances:
Retreat Cost:
Number: 191
Artist: Studio Bora Inc.
Availability
Pokemon Scarlet & Violet Preorders - Get ahead of the game by preordering the latest Pokemon cards, including elite trainer boxes.
Pokemon Scarlet & Violet Booster Box Preorder - Set off on an exciting journey of unpacking packets from the Scarlet & Violet set. Unleash the power of Rare Candy, a Item Pokemon belonging to the type, and master new strategies to attain victory over your rivals.
Pokemon Scarlet & Violet Elite Trainer Box (ETB) Preorder - Heighten your Scarlet & Violet Pokemon showdowns with the Elite Trainer Box. Inside, you'll find booster packs that might feature Rare Candy, a Item Pokemon type, as well as indispensable gameplay accessories and an exclusive promo card. Get ready for epic showdowns! Collection 2019 Newest pokemon Products