Pokemon Scarlet & Violet Energy Retrieval - 171
Check out the Energy Retrieval Pokemon card from the Scarlet & Violet set. It is a Item card with type. Learn more about its details, availability, and preorders.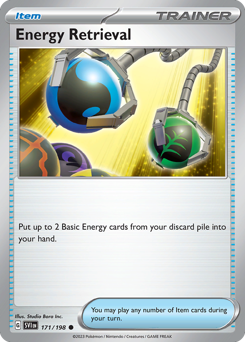 Card Details
Supertype: Trainer
HP:
Types:
Evolves From:
Evolves To:
Rules: Put up to 2 Basic Energy cards from your discard pile into your hand.,You may play any number of Item cards during your turn.
Abilities:
Attacks:
Weaknesses:
Resistances:
Retreat Cost:
Number: 171
Artist: Studio Bora Inc.
Availability Collection 2019 Newest pokemon Products