Let's delve deeper into the Paldea Evolved Shinx a Basic Pokemon Lightning type.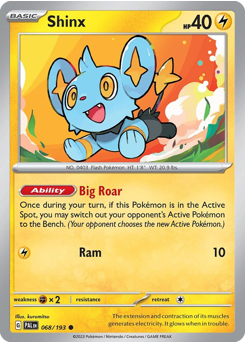 Card Details
Supertype: Pokémon
HP: 40
Types: Lightning
Evolves From:
Evolves To:
Rules:
Abilities: Big Roar: Once during your turn, if this Pokémon is in the Active Spot, you may switch out your opponent's Active Pokémon to the Bench. (Your opponent chooses the new Active Pokémon.) (Ability)
Attacks: Name: Ram, Cost: Lightning, Text: , Damage: 10, Converted Energy Cost: 1
Weaknesses: Fighting: ×2
Resistances:
Retreat Cost: Colorless
Number: 68
Artist: kurumitsu
Availability
Pokemon Paldea Evolved Preorders - Get ahead of the game by preordering the latest Pokemon cards, including booster packs.
< Pokemon Paldea Evolved Booster Box Preorder - Embark on an exciting journey of unpacking packets from the Paldea Evolved set. Unleash the power of Shinx, a Basic Pokemon of the Lightning type, and unlock new strategies to achieve victory over your rivals.
Pokemon Paldea Evolved Elite Trainer Box (ETB) Preorder - Bring your Paldea Evolved Pokemon competition to new heights with the Elite Trainer Box. It contains booster packs that could contain Shinx, a Basic Pokemon Lightning type, along with essential gameplay accessories and an exclusive promo card. Get prepared for thrilling battles! Collection 2019 Newest pokemon Products