Let's discover more about the Paldea Evolved Mabosstiff a Stage 1 Pokemon Darkness type.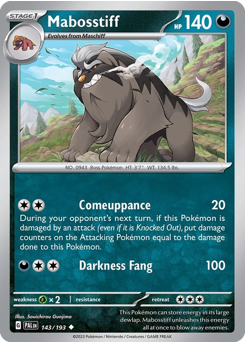 Card Details
Supertype: Pokémon
HP: 140
Types: Darkness
Evolves From: Maschiff
Evolves To:
Rules:
Abilities:
Attacks: Name: Comeuppance, Cost: Colorless,Colorless, Text: During your opponent's next turn, if this Pokémon is damaged by an attack (even if it is Knocked Out), put damage counters on the Attacking Pokémon equal to the damage done to this Pokémon., Damage: 20, Converted Energy Cost: 2,Name: Darkness Fang, Cost: Darkness,Colorless,Colorless, Text: , Damage: 100, Converted Energy Cost: 3
Weaknesses: Grass: ×2
Resistances:
Retreat Cost: Colorless,Colorless,Colorless
Number: 143
Artist: Souichirou Gunjima
Availability
Pokemon Paldea Evolved Preorders - Get ahead of the game by preordering the latest Pokemon cards, including collector's tins.
< Pokemon Paldea Evolved Booster Box Preorder - Engage in the excitement of revealing card packs from the Paldea Evolved set. Summon the strength of Mabosstiff, a Stage 1 Pokemon belonging to the Darkness type, and embrace new game plans to outmatch your opponents.
Pokemon Paldea Evolved Elite Trainer Box (ETB) Preorder - Launch your Paldea Evolved Pokemon duels to the next stage using the ETB. Inside, you'll discover booster packs with the possibility to include Mabosstiff, a Stage 1 Pokemon Darkness type, alongside vital gameplay accessories and an exclusive promo card. Get set for high-stakes encounters! Collection 2019 Newest pokemon Products