Let's delve deeper into the Paldea Evolved Luxray a Stage 2 Pokemon Lightning type.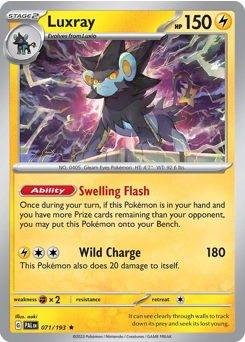 Card Details
Supertype: Pokémon
HP: 150
Types: Lightning
Evolves From: Luxio
Evolves To:
Rules:
Abilities: Swelling Flash: Once during your turn, if this Pokémon is in your hand and you have more Prize cards remaining than your opponent, you may put this Pokémon onto your Bench. (Ability)
Attacks: Name: Wild Charge, Cost: Lightning,Colorless,Colorless, Text: This Pokémon also does 20 damage to itself., Damage: 180, Converted Energy Cost: 3
Weaknesses: Fighting: ×2
Resistances:
Retreat Cost: Colorless
Number: 71
Artist: aoki
Availability
Pokemon Paldea Evolved Preorders - Get ahead of the game by preordering the latest Pokemon cards, including theme decks.
< Pokemon Paldea Evolved Booster Box Preorder - Immerse yourself in the exhilaration of unboxing card packs from the Paldea Evolved set. harness the might of Luxray, a Stage 2 Pokemon of the Lightning type, and explore fresh strategies to outmaneuver your opponents.
Pokemon Paldea Evolved Elite Trainer Box (ETB) Preorder - Take your Paldea Evolved Pokemon competition to new heights with the ETB. It contains booster packs that could contain Luxray, a Stage 2 Pokemon Lightning type, along with essential gameplay accessories and an exclusive promo card. Get prepared for thrilling battles! Collection 2019 Newest pokemon Products