Let's explore further about the Paldea Evolved Grafaiai a Stage 1 Pokemon Darkness type.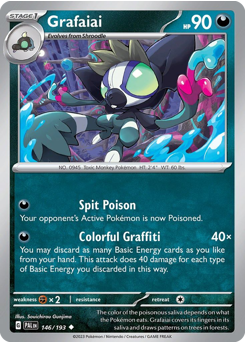 Card Details
Supertype: Pokémon
HP: 90
Types: Darkness
Evolves From: Shroodle
Evolves To:
Rules:
Abilities:
Attacks: Name: Spit Poison, Cost: Darkness, Text: Your opponent's Active Pokémon is now Poisoned., Damage: , Converted Energy Cost: 1,Name: Colorful Graffiti, Cost: Darkness, Text: You may discard as many Basic Energy cards as you like from your hand. This attack does 40 damage for each type of Basic Energy you discarded in this way., Damage: 40×, Converted Energy Cost: 1
Weaknesses: Fighting: ×2
Resistances:
Retreat Cost: Colorless
Number: 146
Artist: Souichirou Gunjima
Availability
Pokemon Paldea Evolved Preorders - Get ahead of the game by preordering the latest Pokemon cards, including elite trainer boxes.
< Pokemon Paldea Evolved Booster Box Preorder - Take part in the excitement of unveiling booster packs from the Paldea Evolved set. channel the power of Grafaiai, a Stage 1 Pokemon of the Darkness type, and adopt new game plans to outshine your opponents.
Pokemon Paldea Evolved Elite Trainer Box (ETB) Preorder - Bring your Paldea Evolved Pokemon engagements to greater heights with the ETB. It contains booster packs that could contain Grafaiai, a Stage 1 Pokemon Darkness type, along with essential gameplay accessories and an exclusive promo card. Get prepared for thrilling battles! Collection 2019 Newest pokemon Products